DAW AutoSave - Add auto save to older Digital Audio Workstations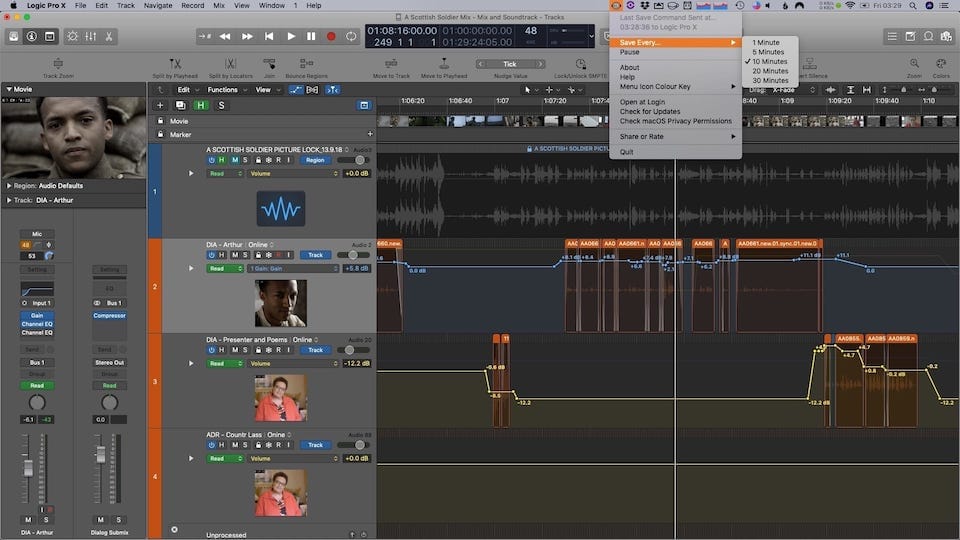 Download for macOS 10.6+ on Apple Silicone or Intel 64bit (v5.3.1) - daw-autosave-64bit.zip
Download for macOS 10.6+ on Intel 32bit (v5.0) - daw-autosave-32bit.zip
---------------------------------
Have you ever forgotten to hit save while working on a project, only for your DAW (Digital Audio Workstation) to crash loosing hours of work? DAW AutoSave can help.
DAW AutoSave runs in the menu bar and will automatically send save commands to your DAW of choice at user defined intervals.
Originally released as "AutoSave for Logic and Soundtack Pro." back in 2012. It has been completely re-written to support many major DAW's
These days most DAW's have built in autosave, so the app is mainly meant for users who dont want to upgrade to newer versions for workflow, hardware compatibility or price reasons. (But I still use it on modern versions of Logic, Cubase and Pro Tools for extra piece of mind!)
Features
Support for Logic Pro, Logic Pro X, Soundtrack Pro, Pro Tools, Adobe Audition, Cubase, Nuendo, Reaper and Garageband.
Notification Center Support
Displays save status in the menu bar.
Supports macOS versions as early as 10.6 Snow Leopard.
64Bit and 32Bit Versions for older Macs.
Customer Reponses
"Thanks David! For your software and idea. I've dreamed about it!" - Tomasz Kalwak
"Thank you for having written such a useful program!" - Jimmy Moss
"Every time I see the Save Command Sent I say a silent "thank you." - Rick Johnson
"@PeacheyMcKeitch your a god damned life saver.... never again will I hate myself for getting into the zone..." - @ManOfTheDown
"Thank you for such a wonderful little program!!" - Oliver Nani